КОНЦЕРТ, ПОСВЕТЕН НА НАЦИОНАЛНИЯ ДЕН НА РЕПУБЛИКА БЪЛГАРИЯ
- Tickets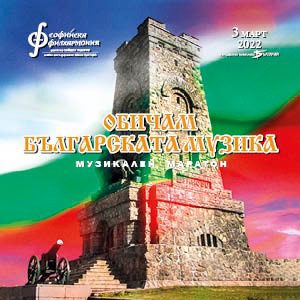 There are no active performances for this event!
Event details
Concerts dedicated to the National Holiday of the Republic of Bulgaria
I love Bulgarian music
Music Marathon
Chamber Hall, 2.00 - 6.00 p. m.
Concerts of students from the National Academy of Music "Prof. Pancho Vladigerov" and students from schools of music.
Bulgaria Hall, 7p.m.
Sofia Soloists Chamber Ensemble and National Philharmonic Choir
Works by: M. Goleminov, Al. Tanev, M. Pekov, P. Staynov, D. Chintulov, D. Hristov
Plamen Djurov
Slavil Dimitrov