Матинe - Йосиф Радионов на 70
- Tickets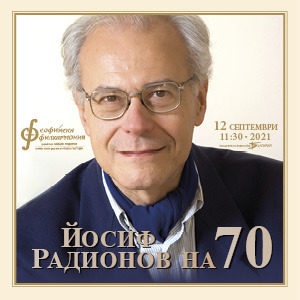 There are no active performances for this event!
Event details
September 12, Sunday, 11.30 am, Bulgaria Hall
Matine -Josif Radionov at 70
With the participation of prominent virtuosos - soloists, friends and students:
Zornitsa Radionova - piano, violinists Angel Stankov, Joana Kamenarska, Miroslav Chakaryan, Teodora Hristova, Ivan Penchev, Pavel Penev, Alexander Ivanov, Elena Ganova, Ivo Alexandrov - cello, Ivan Ivanov - double bass, Asen Kushinchanov - guitar and others.
Conductor: Raycho Hristov
The program includes favorite masterpieces by GF Telemann, JS Bach, N. Paganini, R. Schumann, M. Pekov, A. Vivaldi and others.