Сергей Накаряков и Найден Тодоров
- Tickets
Sergei Nakariakov & Nayden Todorov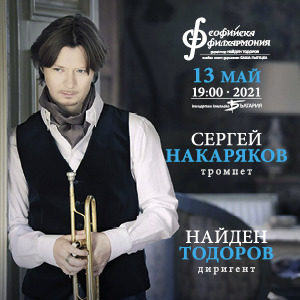 There are no active performances for this event!
Event details
THE AMAZING TRUMPETIST SERGEY NAKARYAKOV - THE NEW BIG NAME IN BULGARIA HALL
Al.Arutunian - Concerto for trumpet and orchestra in A flat major
L.Glass- Symphony No 1 in E major, Op.17
Conductor: Nayden Todorov
Soloists: Sergei Nakaryakov
Sergei Nakaryakov - one of the greatest trumpet players of our time will be a soloist of the Sofia Philharmonic under the direction of maestro Naiden Todorov. On May 13, the musician, named the greatest living trumpet player, Paganini on Trumpet and Caruso on Trumpet, will perform Alexander Harutyunyan's Trumpet and Orchestra Concerto. The second work of the evening is Symphony No. 1 by Louis Glass.
Nakaryakov agreed to include Bulgaria in his program after violinist Ray Chen announced that he could not arrive in Bulgaria due to mobility difficulties caused by the Crown crisis.
Sergei Nakaryakov is one of the most sought-after trumpet players in the world, who has achieved exceptional success, violating the boldly established rules for performing classical trumpet music.
His exceptional gift was noticed when he was only 13 years old at the festival in Korsholm, Finland.
He was born in Nizhny Novgorod in 1977. At the age of 6 he started playing the piano, but after an accident when he was nine years old he had to give up the keys and reorient to the trumpet. His father became his teacher. Sergei Nakaryakov's first appearance abroad was in 1990, when the young trumpet player visited Bulgaria for the first time.
At the Ivo Pogorelic Festival in Bad Worishofen, Germany in 1991, he drew attention to himself, and in August of the same year he made his debut with the Lithuanian Chamber Orchestra at the Salzburg Festival, where he received the Prix Davidoff Award.
Sergei Nakaryakov triumphed in the world music centers Hollywood Bowl in Los Angeles, Lincoln Center in New York, Royal Festival Hall and Royal Albert Hall in London and others. He participates in festivals throughout Europe, America and Canada, and every year he performs a several-week concert tour in Japan. Thanks to his exceptional virtuosity and beauty of sound, he performs trumpet transcripts and violin pieces with ease. He was awarded the ECHO Klassik Award for Instrumentalist of the Year (2002).
He often gives recitals with the pianists - Vera Nakaryakova, his sister or with Maria Meerovich (Belgium), with whom she visited Sofia for the opening of the 2014/15 Season of the Sofia Philharmonic.
He works with the greatest contemporary soloists, orchestras and conductors, including the legendary pianist Marta Argerich.
Tickets for the concert are available at the box office of Bulgaria Hall and in Eventim.bg.