БРУКНЕР Grosse Messe f-moll
- Tickets
БРУКНЕР Grosse Messe f-moll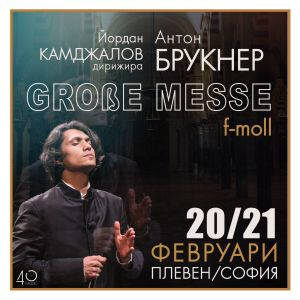 No available Fan Reports
There are no Fan Reports yet written for БРУКНЕР Grosse Messe f-moll. Be the first to write a review and share your experience with others.
Artist description
Йордан Камджалов 
дирижира     
Антон БРУКНЕР
GROßE MESSE nr3 f-moll
Солисти
Мирела АЛЕКСАНДРОВА / сопран
Виолета РАДОМИРСКА / алт
Георги СУЛТАНОВ / тенор
Ивайло ДЖУРОВ / бас
С участието на
НАЦИОНАЛЕН ФИЛХАРМОНИЧЕН ХОР 
с диригент
Славил ДИМИТРОВ
20 февруари 2020 / 19.00 / ч-ще "Съгласие",  гр.Плевен
Билети в мрежата на Ивентим и касите на Филхармонията.
21 февруари 2020 / 19.30 / Зала България, гр.София
Билети в мрежата на Ивентим и касата в Зала България.
Повече информация 0899/145870