Loading...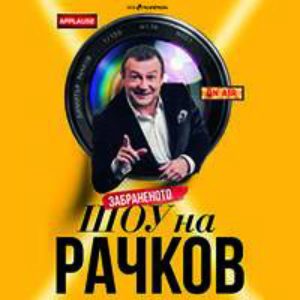 Get notified when we have tickets available.
Receive news about artist as soon as we do, directly to your e-mail.
---
There are no Fan Reports yet written for Димитър Рачков. Be the first to write a review and share your experience with others.
---
Artist description
"ЗАБРАНЕНОТО ШОУ НА РАЧКОВ" 
След като видите това шоу, Вие ще спрете да гледате телевизия. Ще спрете да си купувате прах за пране и да търкате билетчета.
"Забраненото шоу на Рачков" е комедиен моноспектакъл, който ще ви въведе в кухнята на телевизията. Как се правят новините? Лъжат ли ни рекламите? Какво работи продуцентът? Свършват ли някога сапунените сериали? Това са само част от въпросите, на които дава отговор един от най-обичаните шоумени в България Димитър Рачков.
"Забраненото шоу на Рачков" е спектакъл-антидепресант, който гарантира забавление за цялото семейство. Посмейте се на цялата телевизионна машина, разобличена в едно шоу – от сутрешните блокове до холивудските екшъни, от "Бай Брадър" до прогнозата за времето, от готварските предавания до спортните емисии…
"Забраненото шоу на Рачков" е първото телевизионно шоу извън телевизията, което разкрива смешната страна на телевизионните продукции, вкопчени във вечната борбата за рейтинг.
Искали ли сте някога да водите Новините? А да участвате в любимата си телевизионна игра? "Забраненото шоу на Рачков" е интерактивен спектакъл, който ви дава тази възможност.
Деца до 7г. не заплащат билет (без право на седящо място).
---