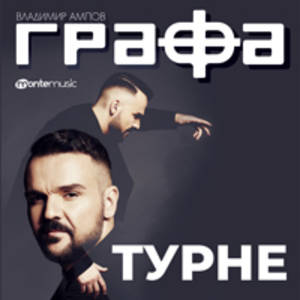 Get notified when we have tickets available.
Register for the eventim.bg ticket alert, and you will be informed by e-mail as soon as there are new dates for your favourite stars and events.
No available Fan Reports
There are no Fan Reports yet written for Grafa . Be the first to write a review and share your experience with others.
Artist description
Vladimir Kirillov Ampov, better known as Grafa, is a Bulgarian pop singer. Debuted almost ten years, and from that moment on, his career was marked by a remarkable leap. He release 13 highly successful albums including 1993 - "Rubber people", 1996 - "Green Caviar" 1998 - "6 is better", 1999 - "Electrocution" (soundtrack to the musical), 2001 - "I give everything for you "2003 -" I Want You "2004 -" If there is a heaven, "2006 -" Honest-to-face, "2008 -" Greatest hits ", 2010 -" Invisible "2012 -" Smoke be gone", 2012 - "Causa Perduta", 2013 - "And hopefully but unlikely". In recent years Grafa has been heavily involved with charity, supporting various causes, including the fight against breast cancer, supporting orphans and others.