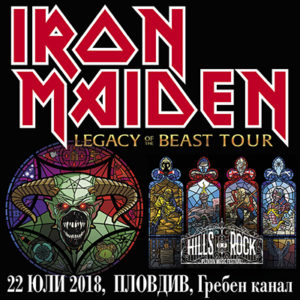 Get notified when we have tickets available.
Receive news about artist as soon as we do, directly to your e-mail.
No available Fan Reports
There are no Fan Reports yet written for Iron Maiden. Be the first to write a review and share your experience with others.
Artist description
Една от най-великите метъл банди Iron Maiden се връща в България за нов концерт през 2018 г. Британската група ще бъде част от фестивала Hills Of Rock в Пловдив на 22 юли.
Това стана ясно от листа с обявените дати за турнето на бандата Legacy Of The Beast. В България промоутър е SME, които организират Hills Of Rock.