Loading...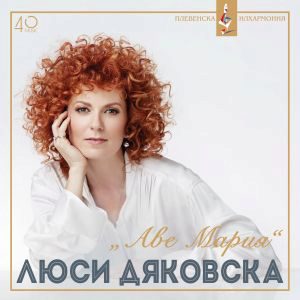 Get notified when we have tickets available.
Register for the eventim.bg ticket alert, and you will be informed by e-mail as soon as there are new dates for your favourite stars and events.
---
There are no Fan Reports yet written for LUCY DIAKOVSKA . Be the first to write a review and share your experience with others.
---
Artist description
"АВЕ МАРИЯ"
Коледен концерт на Плевенска Филхармония със солист Люси Дяковска
"Аве Мария" - молитвата, която отправяме към святата Божия майка, е коледния подарък на Люси Дяковска за родната публика. 
Магнетичната певица ви кани на концерт, посветен на най-светлите празници. Емблематични песни за Коледа и Нова година от всички краища на света, музикални шедьоври от Италия, Франция, Англия, Америка, България, Русия, истории за любов и надежда подгряват празничното настроение и разказват приказка, в която всеки иска да е главен герой!
След огромния успех на концерта миналата година със Софийската Филхармония с две напълно разпродадени зали, Люси се завръща във великолепната Зала България я София и Зала 1 на Фестивалния Конгресен Център във Варна. На сцената тя ще си партнира с Плевенската филхармония, с която за последно разтърсиха Зала 1 на НДК и ДКС Варна с концерта "Най-доброто от Андрю Лойд Уебър" през месец май. Зрителите в София ще имат великолепната възможност да се насладят и на Националния филхармоничен хор с диригент Славил Димитров, който ще партнира за втори пъъ на Люси.
На диригентския пулт застава младият Димитър Косев. Въздействащите симфонични аранжименти са на Румен Бояджиев - син, Георги Милтиядов и Константин Добройков.
Празнувайте Коледа с Люси Дяковска и Плевенска филхармония!

Билетите са в продажба в мрежата на EVENTIM.BG:
——————————————————————————————————————
Допълнителни каси за София:
- Касата на Зала БЪЛГАРИЯ  
Допълнителни каси за Варна:
-Касата на Фестивален Конгресен Център
-Театър Българан
Повече информация на тел. 0899/14 58 70
Lyudmila Lubomirova Dyakovska is a Bulgarian pop singer, member of the German pop group "No Angels." Her stellar career Lucy begins by casting for Popstars in Hamburg in August 2000. There was formed the group "Know Angels" along with 4 singers, which for a short time became the most famous pop group in Germany.
---