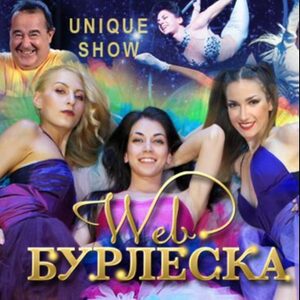 No available Fan Reports
There are no Fan Reports yet written for Web БУРЛЕСКА. Be the first to write a review and share your experience with others.
Artist description
Just graduated from school, she needed a job urgently
Crazy and funny story of a little-known and fascinating world- the world of the webcam girls
Web Burlesque is innovative and surprising, a new generation variety show.
Skilfully combines different styles of stage arts - aerial acrobatics, multimedia, dancing, burlesque, clowning, and more.
It is a colorful, dynamic, and witty show.
A must-see show.
In addition, the show has English subtitles.