Алесандро Сафина
- Tickets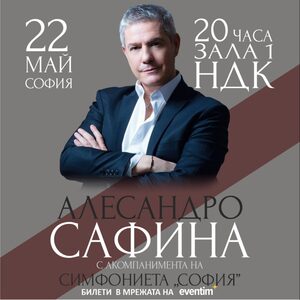 There are no active performances for this event!
Event details
Italian tenor Alessandro Safina in Sofia!
May 22, 2023 Italian tenor Alessandro Safina in Sofia!
On May 22, 2023, the Italian tenor Alessandro Safina will perform on the stage of National Cultural Palace in Sofia, accompanied by a Symphony Orchestra.
At the concert, an Italian tenor with a worldwide reputation will perform new compositions and beloved hits that brought fame to the artist.
Alessandro Safina became interested in music as a child. At the age of 17, he entered the Conservatory in Florence, and a few years later he was a soloist in the best musical theaters in Europe.
Alessandro Safina was made world-famous by his unique voice, natural charm and creative courage.
A great success came to Safina in the Netherlands. The single Luna from the album Insieme a te stayed at the top of the Dutch hit parade for 14 weeks. The album itself went four times platinum here, and was released in another three dozen countries. Alessandro has gifted the world with stunning duets with Sarah Brightman, Elton John, Ewan McGregor, Barbara Hendricks, Sumi Cho. In addition, he has appeared in films and has appeared on film soundtracks, including "Moulin Rouge" Baz Luhrmann.