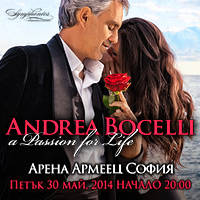 There are no active performances for this event!
Event details
ANDREA BOCELLI IN SOFIA ON 30 MAY 2014
The most thrilling concert of 2014! After eight years Andrea Bocelli is back to Bulgaria! In 2006 the musical genious graced Bulgarian audience with a chamber performance, and in 2014 he's back for a full-blown spectacle featuring all of his timeless hits and renditions of world-known songs and arias. It is only appropriate that this time his show will be in the newly-built Arena Armeets in Sofia, so that thousands of his fans can take part in the magic of Andrea Bocelli's moving performance. The concert will see Maestro Bocelli perform classical arias from the most famous Italian and International Operas. The Artist will also delight the crowds with songs from his latest album, Passione, and possibly one or two surprises.
 "You can only see properly with your heart"- these well-known words of St.-Exupery's Little Prince could stand as a motto for the exceptional career of this genius singer.
A legend – not a product of a marketing team – but a flow of unbelievable success that can never be stopped.
The world's most beloved tenor with the talent of singing in the widest spectrum and at a lively tempo. His smooth voice – known by almost everyone – has been recognized at the highest professional rank.
"If God could sing, he would sound a lot like Andrea Bocelli" Celine Dion once said.
After long years he is on the stage of Arena Armeets Sofia on 30 May 2014.
He was born in Tuscany – the homeland of Puccini and Mascagni – and raised in a little village near Pisa enjoying his family's full support in learning music. No matter how great his love was for the piano or the flute, he found the perfect musical instrument in is his own voice while meeting with success for the first time as a teenage boy.
To be able to support his musical studies with noted teachers he was playing the piano in bars while he was carrying on his legal studies at the University of Pisa as well.
The influence of Pop was becoming stronger and stronger in the world's taste of music has reached him too. He took part in various pop-projects but never forgot about his main passion-opera. This dual musical development shaped his personal style further on – one that is based on traditional operas, but entertains the widest range of audience.
The real star was born internationally in 1994. He won the song contest in Sanremo with "Il Mare Calmo della Sera." He was given a part in Verdi's Macbeth and at Christmas in the same year he sang "Adeste Fideles" for the Pope and tens of thousands of believers at St. Peter Square. He has had an unparalleled career since then.
Hardly countable are his professional tributes from being in the book of Guinness Records, through Golden Globe Award to Oscar nomination. While singing in operas of Bizet and Puccini for hundreds of thousands of people he carries off the bays in the pop industry as well. One of his greatest hits –"Con Te Partiro'", later a duet with Sarah Brightman with the title of "Time to Say Goodbye", was leading top lists for months and broke all disc sales records of its time. Carnegie Hall, Central Park in NY, the Coliseum in Rome, Opera Houses in Sydney and Berlin or a Super Concert with 110 thousand  people in Sao Paolo, Brazil, are just a few moments from his amazing career. He got a star on the Walk of Fame in Hollywood in 2010.
His popularity is far beyond that of his older colleagues like Jose Carreras and Placido Domingo, nevertheless they have concerts together from time to time. Bocelli's influence to modern music is mentioned alongside with Caruso's and Sinatra's.
"I don't think one decides to become a singer. It is decided for you by the reactions of the people around you" says Bocelli, who likes to describe himself as a "modern but old-fashioned" tenor.
One of the exceptional singer's most important features is his perfect voice that is simultaneously melancholic and radiant in color, especially when he sings as a lover or a father.
On January 29th, 2013 Maestro Bocelli released his new, highly anticipated 14th studio album, "Passione", which includes some of the most beautiful love songs ever, featuring special duets including tracks with Jennifer Lopez, Nelly Furtado and trumpeter Chris Botti.
In the 21st year of his career with more than 80 millions records sold Andrea Bocelli is going on stage at Arena Armeets Sofia on 30 May 2014. Tickets cost between BGN 50 (EUR 25) and BGN 200 (EUR 100) and are available on sale at www.eventim.bg and www.andreabocelli.com/tickets