Loading...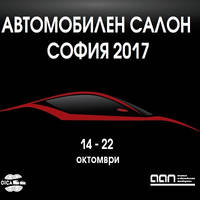 There are no active performances for this event!
Event details
For the twenty-third time, the most exquisite motor show in Bulgaria featured once again in *OICA's calendar, would take place at the "Inter Expo Center" between 13th – 22nd October.
The ACM** would present a range of cutting edge exponents, some of which would be introduced to the Bulgarian audience for the first time. Our guests would have the chance to come across of more than 50 automobile innovations. Even more, a pristine collection of motorcycles would steer in our direction, park, and make this more than a car show.
Following the tradition, this year as well, one has the unique opportunity to win a brand new car from our 12 picks. All he/she has to do is participate in the Sofia Motor Show questionnaire, where a few more prices await their lucky winner. More information www.sofiamotorshow.bg
* OICA – The International Organization Of Motor Vehicle Manufacturers, founded in Paris 1919;
** ACM - The Association of Car Manufacturers and their authorized representatives for Bulgaria;
LOCATION AND HOURS OF OPERATION:
When?
-        14th – 22nd of October (10:00 – 20:00h)
Where?
Inter Expo Center Sofia
Address: 147, Tsarigradsko shose blvd, 1784 Sofia, Bulgaria
GPS coordinates: 42.649996, 23.394527
All visitors that they can use, upon payment, the buffer parking area at the metro station "Inter Expo Center - Tsarigradsko Shose".

The capacity of the parking lot is 1,300 parking places. It can be accessed from both sides of Tsarigradsko Shose Blvd., in the traffic direction in the relevant local lanes at Inter Expo Center.
Public transport:
METRO
Line 1 - station Inter Expo Center - Tsarigradsko shose
For more information: http://www.metropolitan.bg/en
BUSES
Bus lines providing direct access to Inter Expo Center: 1, 3, 5, 6
For more information: http://www.sofiatraffic.bg/bg/transport/schedules
EXHIBITORS:
Total Exhibition Ground: more than 10 500 m2
Total Exhibitors: more than 65 – 28 AMC members, 37 others;
Estimated Number of Visitors: more than 60, 000 people, with 67,8% increase since 2013 – 34 650 people;
Participants:
Cars: AUDI, BMW, CITROEN, DACIA, DS, FIAT, FORD, GREAT WALL, HONDA, HYUNDAI, INFINITI, JAGUAR, JEEP, KIA, LADA, LAND ROVER, LEXUS, MAZDA, MASERATI, MERCEDES-BENZ, MINI, MITSUBISHI, NISSAN, OPEL, PEUGEOT, RANGE ROVER, RENAULT, SSANG YONG, SKODA, SUBARU, SUZUKI, TOYOTA, VOLVO and others.
Motorcycles: BMW, HONDA, HARLEY-DAVIDSON, KYMCO, MV AGUSTA, PEUGEOT, PIAGGIO, SUZUKI, TRIUMPH, VESPA and others.