Чудовища, Герои, Богове
- Tickets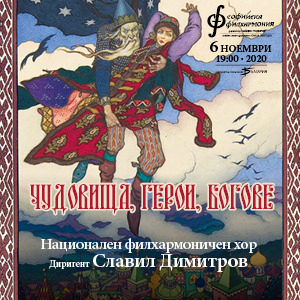 There are no active performances for this event!
Event details
6 November 2020, Friday, 7 PM, Bulgaria Hall
"Monsters, Heroes, Gods"
Songs from Old Slavic myths and legends
The program features: songs, musical myths and legends about the slavic fairy villains and miracles: Baba Yaga, Kashchey, Kikimora, Owl, mermaids, water spirits. Arrangements of folk songs by Antonín Dvořák, Bedřich Smetana, Henryk Górecki, Stevan Mokranyats, Alexander Sveshnikov, Igor Stravinsky and others.
National Philharmonic Choir
Slavil Dimitrov Conductor
Бял АБОНАМЕНТ / White SUBSCRIPTION