Федра /Сияйната
- Tickets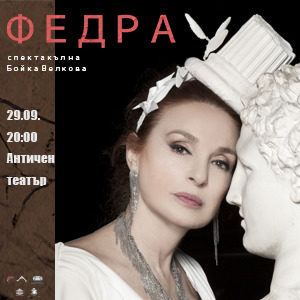 Event details
Phaedra
by Petar Plamenov
Director Boyka Velkova
Set Designer Boyana Bachvarova
Composer Theodosiy Spassov
Choreographer Philip Milanov
Dramatis Personae and Cast:
Phaedra – Boyka Velkova
Theseus – Plamen Manassiev
Hippolytus – Mihail Sarvanski
Agathon – Sevar Ivanov
Diotima – Petya Silyanova
AZARYAN Theatre, Sofia, 2021
Ancient Greeks believed that love endows the soul with wings… The moment it falls in love, it will look for truth, it will remember the Sky where it has come from, it will yearn for the eternal light and will learn to fly. The myth about Phaedra is one of the most imagination exciting stories. First, because of the unusual love revenge theme and the resistance against the sweeping power of Aphrodite. Second, because of the forthright question: if love is not only passion but the essence of living why does man turn it into a quest of fate? If love is not our salvation where this salvation lies? Quoting the ancient line: "Loving is seeing the beauty and being unafraid of its light."
Phaedra means bright and shining in Ancient Greek. Everyone in her family knows love and does love and yet will go through an unsuspected test. Is contemporary man still capable of great emotions, can he love wholeheartedly and does he hide his egoism behind his illusions? He would fly like an Icarus of ludicrous audacity, and unsuspecting the dazzle he would raise high in his longing to the point of losing his wax wings.
Love calls for being greater than ourselves, calls for sobriety and clarity. Can we, however, become greater than ourselves, raise the other and recognise the limitless vastness within him, acknowledge defeat and be happy with it… True wisdom, so it happens, is possible when we realise that truth stretches beyond reason and flies further being born within the heart as meaning…