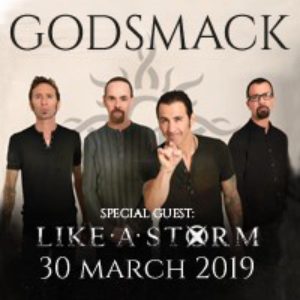 There are no active performances for this event!
Event details
GODSMACK FOR THE FIRST TIME IN SOFIA
The US band comes for a show in "Arena Armeec" on the 30th  of March
Godsmack, winners of The Billboard Music Awards Rock Artist's of the Year in 2001, as well as four Grammy nominations come with all their hits in Sofia in November. Selling over 20 million records worldwide, the band has also unleashed three consecutive albums at #1 on the Billboard Top 200. This places them in league with Van Halen, U2, Metallica, Dave Matthews Band, and Linkin Park who have also enjoyed the same streak.
The Boston band included Bulgaria in their tour, promoting their new album. "When Legends Rise" is the bands first album in four years. "You've got to burn it down to build it up," affirms Erna. "When Legends Rise is a metaphor. Life can get challenging at times. It can knock you onto the ground. However, if you reach inside of yourself, find that inner strength, and rise up again, you'll flourish. Over the past few years, I went through a really tough time, but I learned this firsthand. Coming out on the other side, we're going to do this bigger and better than we ever have. We're ready to work."
"Godsmack have earned their place among the biggest rock bands in the world, long time ago. It is an honor and privilege for us to organize their first show in Sofia. Except songs from their new album, the fans will have the chance to hear their biggest hits, that made them the band that they are now", says Aleksi Kalev from Bulgarian Live Music.
Godsmack, 30th of March, "Arena Armeec" hall. Tickets available at Eventim.