Konstantinos Argiros - Live in Sofia
- Tickets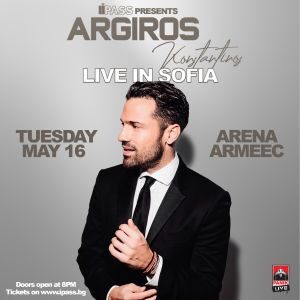 Event details
Konstantinos Argiros - Live in Sofia
Tuesday 16 May -Arena Armeec
A unique concert with all the top hits!
Konstantinos Argiros, the pioneer Greek artist - phenomenon with countless platinum hits and music awards, comes to Bulgaria for the 1st time in his successful career.
An exciting concert and a outstanding show, with Konstantinos Argiros, the most successful Greek popular artist of his generation. Don' t miss his no-1 hits, and a show full of surprises and strong emotions.
Many thousands of fans have experienced unique music moments with Konstantinos Argiros! Be the one to experience a great production of excellent aesthetics and high standards which writes history in the concerts chronicles.
Artist's Social Media:
WEB | http://www.konstantinosargiros.gr/
FACEBOOK | https://www.facebook.com/argiros.kons...
INSTAGRAM | https://www.instagram.com/argiros_kon...
TWITTER | https://twitter.com/ArgirosKonstant
YOUTUBE | https://www.youtube.com/ArgirosTv/