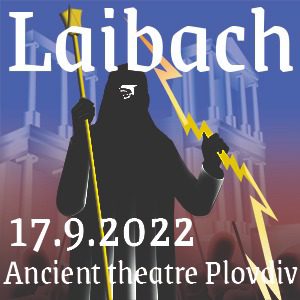 There are no active performances for this event!
Event details
LAIBACH in Plovdiv in September 2022!
On September 17th (Saturday) LAIBACH will adapt and transform the stage of the one of best-kept antique theatres across the globe for an amazing show that will include custom-designed mapping!
The most important show for Laibach in Bulgaria is coming this Fall. The interactive Slovenian music group will present a uniquely conceived conceptual performance on September 17th, 2022 (Saturday) at the Antique Theater Plovdiv starting at 20:00!
Joining the band onstage will be the Orchestra and Choice of the State Opera Plovdiv, conducted by maestro Konstantin Dobroykov.
This show will be a one-off cultural happening. It will not be a part of an ongoing tour and will take place on only one night. Laibach is a cultural institution with a four-decade-long history, inside of which the audience thinks, dances, and marches in tandem to the Laibach beat, but the question of how these art conceptualists will interweave their spectacle with the atmosphere of the Antique Theater?!
Laibach's list of past shows contains a very special and unforgettable performance where August 2015 Laibach was one of the few Western bands to play the hermetically-sealed state of North Korea. An event and performance that is well-documented in the film Liberation Day. So, those who have been following the band for decades now will surely pose the question – what does Laibach have in store for the Plovdiv show?
Without a doubt, they will use all devices at their disposal to claim another historic achievement! So far, we are in possession of only one, singular, fact that Laibach will take over and transform the Antique Theater into a unique event unique customized to the architecture of the venue!
This will not be a mere concert hall affair, but rather a communion with a historic space and the concept of a world-class artist, with a style containing multidisciplinary practices – from the popular high-art, encompassing powerful throwbacks to art history – from the classical to the avant-garde, from socialist realism to pop art!
LAIBACH is a cult, which has erected followers throughout Europe. They are the self-proclaimed "engineers of the human soul." Their militaristic style, propaganda manifests, and totalitarian proclamations give birth to many debates, surrounding their actual creative and political credo.
During the four-decade-long career Laibach, whose members live in Ljubljana, has released more than 40 albums, the bigger part of which on the indie label Mute Records (Nick Cave, Depeche Mode, Goldfrapp, Moby, Kraftwerk, New Order, etc..).
The concert is organized by Bulgarian promoter companies Blue Hills and PanHarmony.