Lord of the Rings in Concert
- Tickets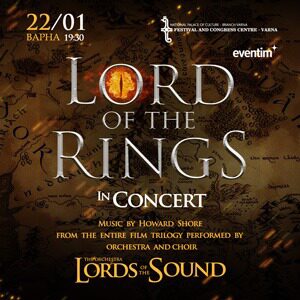 There are no active performances for this event!
Event details
The legendary and fantastical world of hobbits and elves comes to life thanks to a music-visual performance performed by the Lords of the Sound Symphony Orchestra.
A wonderful two-hour concert with the participation of a symphony orchestra, choir and soloists! The Lords of the Sound orchestra has already managed to impress the Bulgarian audience with a brilliant concert with a program of hits by Hans Zimmer and is happy to present its new program to Bulgaria - in Varna and Sofia!
From the cheerful melodies of the hobbits to the menacing sounds of Mordor and the beautiful lyrical songs of the elves - Howard Shore's Oscar-winning music, written for the most famous film trilogy "The Lord of the Rings", will sound with new power, creating an unforgettable atmosphere of Middle-earth.
"The moment has come when we are delighted to present to you the musical story "Lords of the Rings in Concert". We look forward to seeing you at a live concert of the most famous saga in the world!"