MIDALIDARE ROCK IN THE WINE VALLEY
- Tickets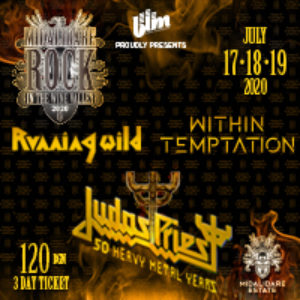 There are no active performances for this event!
Event details
WITHIN TEMPTAION COMPLETE THE STRONG FESTIVAL AT MIDALIDARE
Another leading act from Wacken joins Midalidare Rock in the wine valley
The third headliner of the second edition of Midalidare Rock in the wine valley was announced today. After Judas Priest who will celebrate their 50th anniversary at the festival and Running Wild who will come for the first time in Bulgaria, the third band is Within Temptation, they were one of the leading acts of this years Wacken Open Air.
Within Temptation, fronted by one of the leading ladies in the rock scene, Sharon den Adel, will be heading towards Bulgaria as one of the headliners of Midalidare. The band was founded in 1996, originally classified as symphonic metal but having developed to a more rock oriented sound on the most recent release 'RESIST' - that came out on February 1, 2019. During the band's career span they have sold more than 3.5 million records all over the worlds, sales fired up by Within Temptation's ground breaking hit singles such 'Ice Queen', 'Mother Earth' or the more recent 'The Reckoning' - a firing duet with Papa Roach lead singer Jacoby Shaddix. 
The second edition of Midalidare Rock in the wine valley will take place on the 17, 18 an 19 July 2020 г. Kids up to 12 years enter for free. Tickets are available at Eventim