Приказка за перкусии
- Tickets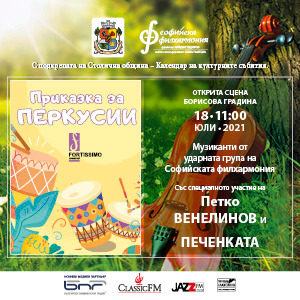 There are no active performances for this event!
Event details
Fairy Tales About Percussion
Children's Concert
Musicians from the percussion group of the Sofia Philharmonic
With the participation of: Petko Venelinov and Pechenkata
On July 18, in the cool space of the Borisova Gradina Park Theater, the Sofia Philharmonic Orchestra is preparing a special surprise for its youngest fans - an artistic studio where children will learn how to make their own musical instruments. The musicians from the national orchestra's percussion group will demonstrate that music is all around us, as long as you can hear it. The workshop starts at 10 am, and immediately after that, at 11 am, the kids will hear the educational concert "A Tale of Percussion". The concert is part of the children's program of the Fortissimo Philharmonic. Special guests at the concert are Adriana Nikolova - Pechenkata - world champion in beatboxing and actor Petko Venelinov, well known from the theater, cinema and the series "Dear Heirs".
Among the audience will be Petko's three-year-old daughter, who already knows how to hold the baton for Dad's drums.
"Margita loves to play with bowls and plates, like any little girl. But she often makes them "sing," as she puts it, by beating them and drumming on them. It is quite rhythmic and sometimes even interesting things happen. And she is the child of two rhythmic people, her mother sings beautifully, and I played drums in high school.
In the program of the concert the children will hear favorite melodies in unexpected arrangements and will learn who is the Bulgarian, whose textbooks are studied by all percussionists in the world.
In addition to the traditional percussion instruments, the musicians from the percussion group of the Philharmonic plan to win over the children with those instruments that recreate sounds from everyday life and even imitate animals. The kids will hear the roar of a lion, a nightingale, even the terrible thunder.
The summer season of the Sofia Philharmonic "Share the music" is supported by the Sofia Municipality and is part of the Cultural Calendar of Sofia.