Себастиан Кнауер
- Tickets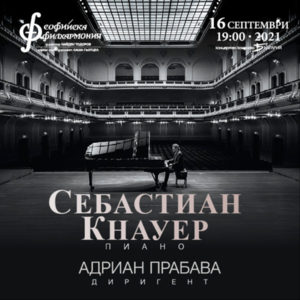 There are no active performances for this event!
Event details
Two-time Echo Classic winner Sebastian Knauer will play at the opening of the Sofia Philharmonic season
Two-time Echo Classic winner Sebastian Knauer has agreed to replace pianist Stephen Kovacevic after it became clear that his entry into the country was in question due to anti-cancer measures. Sebastian Knauer quickly rearranged his commitments so that he could fit Sofia into his busy schedule. Under the direction of Adrian Prabava, he will present Mozart's Piano Concerto №9.
The rich biography of the German virtuoso stretches for thirty years on the stages of prestigious places such as the Berlin Philharmonic, Gewandhaus - Leipzig, Concertgebouw - Amsterdam, Theater Champs-Elysees in Paris, Tonhale - Zurich, Concert Hall in Vienna and other in Lincoln Center . One of Mozart's most famous specialists, he played the full cycle of 27 Mozart piano concertos with the Hamburg Philharmonic and all of Haydn's concertos with the Bamberg Symphony Orchestra, conducting the piano orchestra in both cases.
Sebastian Knauer's extensive and versatile repertoire is reflected in his 15 CDs to date. For his CD "ÜBERBACH" he was awarded the Echo Classic prize. The recordings "Bach & Sons" and "Bach & Sons II", together with the Zurich Chamber Orchestra, received high acclaim from critics: "Brilliant" (Stern), "Fantastic" (Neue Zürcher Zeitung), "Excellent" (Die Presse, Vienna). ). Works with the labels Berlin Classic, Warner Classic, Deutsche Gramophone and Naxos. His joint project with Daniel Hope, entitled "East Meets West", received an Echo Classic Award and a Grammy nomination. He enjoyed a close working relationship and friendship for many years with the British conductor Sir Roger Norrington. In 2006, they released a Mozart CD along with the Salzburg Chamber, which was rated by critics as one of the best Mozart recordings of all time.
As a fan of chamber music, he has participated in numerous projects with such prominent colleagues as the Emerson String Quartet, the Berlin Philharmonic Quartet, Renee Capusson, Sabine Meyer, Albrecht Meyer, Hermann Prey, and choreographer John Neumeier.
Strongly involved in social causes, he participates in many charity events. On July 13, 2017, he organized, together with the newspaper "Hamburger Abendblatt", a special concert in the great hall of the new "Elbfilharmonic" in Hamburg, where he played in front of over 1,000 police officers and their partners. He called the concert a RESPEKT, in recognition of their commitment to dealing with the serious clashes at the G20 summit in his hometown.
Since 2001 he has organized numerous educational programs "Wort trifft Musik" (Word meets music), which always focus on one particular composer. Sebastian Knauer takes personal responsibility for the written texts detailing the composer's life, which are then recited on stage by popular German actors Martina Gedek, Iris Berben, Katja Riemann, Klaus Maria Brandauer and Ulrich Tukur.
Concert tickets are valid without revalidation. A limited number of tickets can still be purchased at the box office of Bulgaria Hall and Eventim.