Loading...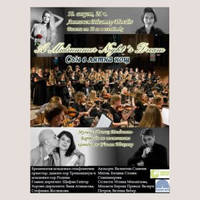 Сън в лятна нощ
A midsummer night's dream
There are no active performances for this event!
Event details
The 'Midsummer night's dream' concert is the common project 'Meet in Music' of the young musicians from the Bremen Youth Symphony Orchestra conducted by Stephan Geiger, the Plovdiv female choir Trimontium with conductor Vanya Atanasova and the Rodina choir from Stara Zagora. They present the beauty of the symphonic music combined with the exquisiteness of the choir ensemble.