Loading...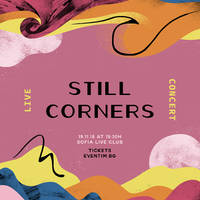 Still Corners — на живо в София
There are no active performances for this event!
Event details
This winter the British dream pop/synthpop band Still Corners comes to the Bulgarian stage for the first time. The music duo formed in London in 2007 by vocalist Tessa Murray and producer/multi-instrumentalist Greg Hughes.
Following a series of EPs released in the UK, the band attracted the attention of the highly acclaimed American label Sub Pop. This resulted in the release of 3 albums, making the band a regular act on the dream-pop/synthpop scene. With the positive reviews of independent media such as Spin, NME and Pitchfork, Still Corners quickly got the attention of indie-pop enthusiasts.
After relocating to the English seaside to record their fourth album "Dead Blue", the band released it on their very own label Wrecking Light Records. Seeking a new direction for their next project, Still Corners looked further for inspiration, finding themselves in Austin, Texas. As a result, the band released the rich, atmospheric and ethereal "Slow Air", inspired by the heat of America's west.
Thanks to the band's upcoming debut on the Bulgarian scene this November, dream-pop and synthpop fans will be able to finally enjoy one of the most exciting acts in the genre.