ULI JON ROTH - Легендата от Scorpions
- Tickets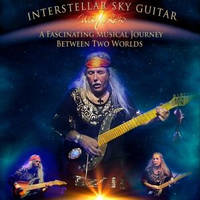 Event details
ULI JON ROTH – guitarist extraordinaire and multi-media artist – is going it alone. ULI has performed on stage with bands for over fifty years, but this is the first time he will tour alone, offering essentially a one-man multi-media show. He is now embarking on a world tour of epic proportions, kicking off with a series of concerts in Japan and Asia, followed by Europe, North & South America, Australia and Africa.
ULI JON ROTH is widely regarded as one of the greatest guitar players ever. He is mostly renowned for his ground-breaking contributions to the electric guitar in the field of rock, but this time he takes us on a fascinating musical journey which is bridging the creative worlds of classical, ethnic and rock music in an unprecedented way.
With the INTERSTELLAR SKY GUITAR WORLD TOUR, ULI is offering an incredible two hour Solo Show (with intermission) which is complimented by multi-media screens and holograms telling stories of Heaven and Earth. On this tour, ULI is exploring a different facet of his genius – breathtaking virtuoso guitar playing combined with poetic lyricism and beauty and an artistic and humanitarian message.
ULI'S guitar playing is simply in a class of its own, and this show is incomparable, because no other player on the planet is able to blend classical and rock music in such an organic and convincing manner. Although ULI performs well-known classical masterpieces virtually note for note, the result is something truly unique and exhilarating. Here is someone who is not afraid of breaking down the rigid boundaries between classical, ethnic and rock – and precisely, because he understands both worlds so well – he is in a unique position to make this work. The results are both thrilling and exciting.