Loading...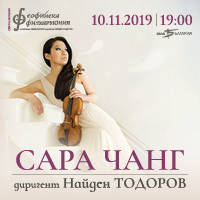 ЗВЕЗДАТА НА ЦИГУЛКАТА САРА ЧАНГ
There are no active performances for this event!
Event details
Chang makes a comeback to Sofia for another concert with the Sofia Philharmonic Orchestra and Maestro Nayden Todorov. Following the rapturous welcome of her previous appearance in Piazzolla's Four Seasons, Sarah has kept her promise to perform again with the the National orchestra of Bulgaria - this time in Sibelius's Violin Concerto. Dvorak's Symphony No. 9 From the New World is featured in the second part of the concert.